Happy freedom week, have you been clubbing every night? Thought so. Although things have been relaxed somewhat we are still entering back into the world with a degree of trepidation we must say.
What a glorious week though - warm enough for you? Think we may have over-ordered on the sun. It was a glorious day Sunday - if you missed President's Day where were you - it was a cracker. Here's what you missed: President Pullo had a monickored golf cart to whizz about on, lunch was amazing for the lucky few, Alex Schofield made some scrumptious cakes for tea (individually wrapped natch), the pirate ship had a makeover and was transformed into a gin bar with drinks named after ex-Presidents, and that's very much not forgetting the great cricket on show - Josh Fyfe opening the bowling for the Chertsey XI, who we think may be the youngest player to open a President's Day innings (we know you'll correct us), Dylan Pandya popped up with a wicket for the President's XI, and both along with wickie Arthur Walmsley and Ladies Captain Lorna Bailey made their first Prezzies outing. The man of the match was Mr Elliott Bloomfield with his 75* for the victorious Chertsey XI. One our favourite moments though was the impromtu knockabout at the end of the day inviting all and sundry to have a go, young, inebriated, old enough to know better, there were certainly some debatable fielding and dodgy decisions on show. We think you'd still be out there now if you had a chance. We've created a little gallery on the website for you to relive the day here.
President Pullo would also like to drop you a few words:
Dear All
Just a quick thank you to everyone involved in setting up and running of Presidents Day. The weather came free but the effort put in by a few people was incredible. Two flowers who didn't get flowers were Mark Nuti and Phil Boast.. thank you guys and also thanks to the professional spectators / parents for being there, as has been said many times in the world recently having spectators there makes a big difference. Great to see colts and lady cricketers on the pitch, we are nothing if not inclusive, to prove that further I finished my great day explaining cricket to a Polish Uber driver! I think Wojcek is playing Saturday!!
Love Pullo
Opening the Batting
Sunday marks the third and penultimate round of the CPL2021 competition (everything crossed the weather is bluffing us again), and with Bourne Stars destined for a crash course in barmaiding before they man the pirate ship its up to the other three teams to fight over their places on Finals Day - the team finishing top is guaranteed an automatic bye to the Final, whereas places two and three will need to fight it out in a semi-final to meet them. Everyone wants to avoid playing two games if they can, so its all to play for. Going into the hotly-fought orange and purple cap battle for best bowler and batsman is David Sloan with 174 runs and Hugh Aish-Lyons with 4 wickets respectively so they probably won't mind playing two if it helps the figures.
The tastiest match of the draw is surely the first game, Grove Armada v Meads Enforcers vying to upset the table, and if Bourne Stars pull off a shock against Gogmore Knights, it could potentially put a road hump in their route to the Final. Whatever happens, like every round so far, it'll be unmissable.
Below is the current league table going into the day:




How good was The Hundred last night by the way - we were one of those naysayers we've got to be honest (as you know we love nothing better than sitting on a random field digesting 100 overs of red ball cricket at a time) but we may just be converted along with a few others - the more we can do to introduce people to our fantastic game the better. So if you have a new convert yourself drop us an email, get them down for a training session, they could be popping up in Notable Mentions in no time. Speaking of hundreds (see what we did there), you may or may not be aware, but we have a very special occasion next year, for it is the 100th year at our home Grove Road aka The Home of Cricket (surely there's not another? Lords? Oh), after the ground was donated to us in 1922 by former President and Chertsey philanthropist Sir Edward Stern (hence named Edward Stern Sports Ground). To celebrate we've we've got a mammoth year to plan, but we're looking at the current members old and new to get involved and help plan it to give it a proper club feel. So if you're interested in being involved in helping organise the biggest year in the CCC calendar ever, pop us an email. Or if you have any memories or mementos about the ground and its finest events, again feel free to contact us.
Notable Mentions
The 3s were over at Old Pauline taking on Thames Ditton (fielding first), and after a flurry of wickets to start things off (Joe Blanks and Jack Perks with the quick poles) Thames Ditton started to try to get back in the game in the middle overs but Beardy Steve Reynolds had other ideas and broke up the Thames Ditton party. The bowlers had a productive day all in all, there were nine maidens throughout the game, Dylan Pandya having the pick of the spells with figures of 6-3-7-0, and Joe Blanks with a spectacular caught & bowled brought things back onto an even keel and Thames Ditton ended their innings with 134 scored. In reply the 3s had overs to play with and new face Vishnu Remesh (2 wickets, 46 runs) just missed out on his maiden CCC half-century, leaving Kevin O'Flynn and James Wooltorton to bat to victory with 10 overs to spare and hopefully get the 3s' season back on track.
The 2s headed over to a tough gig at Normandy and out of all the teams sweltering in the heat, it was them we felt most for starting first and coming in last, with 103 overs for them to negotiate. They bagged their obligatory early wicket (a worldy catch from Josh Fyfe we hear, who went on to bag 2 wickets himself in the game) but Normandy dug their heels in and after a middle order collapse they declared on 50 overs with the 2s requiring 217 for straight victory (it was one of those timed thingies). In reply all the 2s had to do was stay in to avoid straight defeat, and stay in they did, David Sloan impressing with 37, towards the end Ravi Patel with 1 run off 46 balls (the new Chertsey Jack Leach) meaning the last holder of said tag #11 Stuart Eagles found himself eleven new friends again along with Hugh Aish-Lyons (0 runs for 31 balls) as Normandy tried to smoke them out but he and Hugh batted through for a losing draw and four points to add to the cause.
The 1s were back at the ranch and bagging the early wicket of the opener Kempton were outshone with a 1s team on literal fire, wickets spread around the team, the pick Jacob Loveridge impressing with 2-0-18-0, and Kempton were back out on the field having to defend 107. In reply James Richards carried his bat with a steady 25* and along with Dave Risk at the end adding his 45* to seal the deal, leaving the 1s in second just one point behind Hampton Wick in div 4 with seven games to go. The next couple of matches will be immensely important for them - Staines & Laleham away and Hampton Wick at home.
We haven't forgotten the 4s by the way - they had a bye and could stay in the shade.
2 wins and a losing draw for Sir Edward Stern's birthday? That'll do nicely, think he'd be happy with that.
Saturday 17th July
Surrey Championship - 1st XI 107-3 v Kempton 106 a/o
Dave Risk 45*, Luke Westcott 3-21
Surrey Championship - 2nd XI 81-9 v Normandy 216-7 dec
David Sloan 37, Josh Fyfe 2-33
Surrey Championship - 3rd XI 135-2 v Thames Ditton 134-6
Vishnu Remesh 46, Joe Blanks 3-31
Sunday 18th July
U12s v Pyrford - Conceded
President's XI 162 a/o v Chertsey XI 164-2
President's XI: Shyam Patel 36, Casha Nijhawan 36, Dylan Pandya 1-14
Chertsey XI: Elliott Bloomfield 75*, Jack Ogle 71*, Jacob Loveridge 3-5, Jack Lloyd 3-13, Jack Ogle 3-27
Monday 19th July
U15s v Camberley - Conceded
Fixture Card
The game to keep your eye on this week is the U10s' clash with Royal Ascot tomorrow night, after a difficut week, if they win this game, the rest of the league won't be able to catch them, they'll be winners and nab our first silverware of the season! Everything crossed for you tenites, the lemon fanta is on ice.
Thursday 22nd July
U11 dev v Ashstead
Social League - Otters 11 v Football Club
Social League - Pirates v Academy
Social League - Chertsey Ladies v Vet Labs
Friday 23rd July
U10s v Royal Ascot
U14 dev v Thames Ditton
Saturday 24th July
Surrey Championship - 1st Xi v Staines & Laleham (A) 12pm start
Surrey Championship - 2nd XI v Malden Wanderers (H) 12pm start
Surrey Championship - 3rd XI v Camberley (HRec) 1pm start
Surrey Championship - 4th XI v Valley End (A) 1pm start
Sunday 25th July
U13s v Horsley & Send
U14s v Esher
CPL - Grove Armada v Meads Enforcers (12pm)
CPL - Gogmore Knights v Bourne Stars (3pm)
Wednesday 28th July
U14 dev v Walton on Thames
Dates For Your Diary
25th July - CPL Round 3
29th August - CPL Finals Day
18th September - Colts Dinner
Tailender
Now that we've passed the milestone of Freedom Day the bar may start to look a bit more BC (Before Covid) - so we hope to start enjoying a few more balmy evenings on the patio, starting tonight with the Social League. We'd just like to remind you though only alcoholic drinks bought on site can be consumed on site and that we risk our licence being revoked for serving under agers alcohol too. Parents and designated guardians (a captain for instance with approval) can buy a beer for u18s but u18s cannot ask for alcoholic drinks nor ask others to get drinks for them. Either being violated is a disciplinary action.

We're off to make sense of this Hundred thing, and we thought timed games were a head scratcher...
President's Day 2021 Gallery

l-r: Chertsey XI & President's XI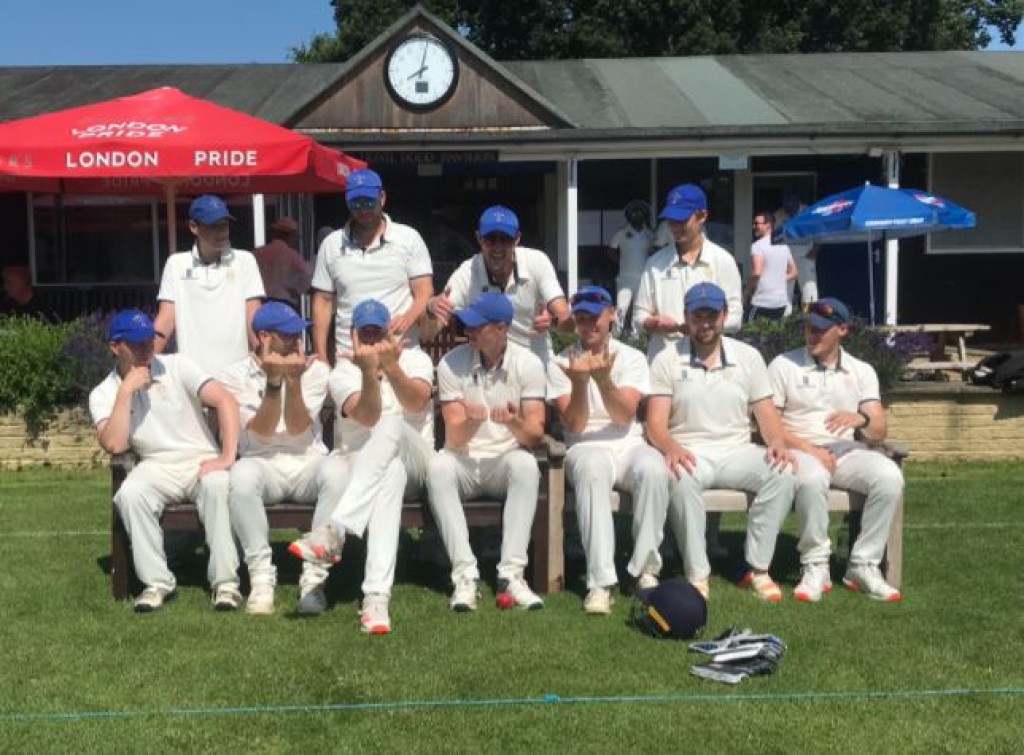 "Do a funny one! A FUNNY ONE! ...Nevermind"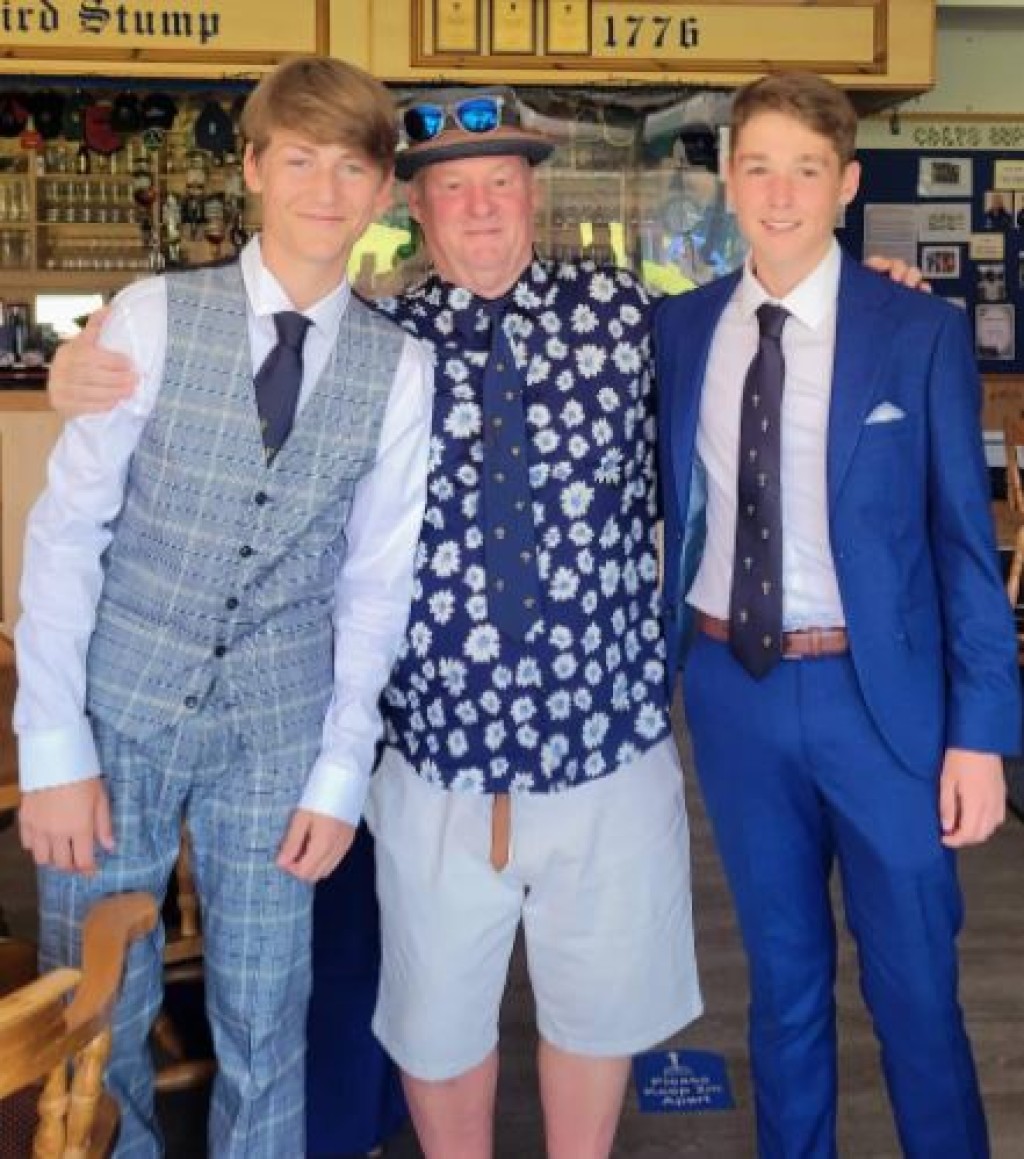 President Pullo with two of our Colts, Arthur Walmsley & Josh Fyfe, who made their debuts on the day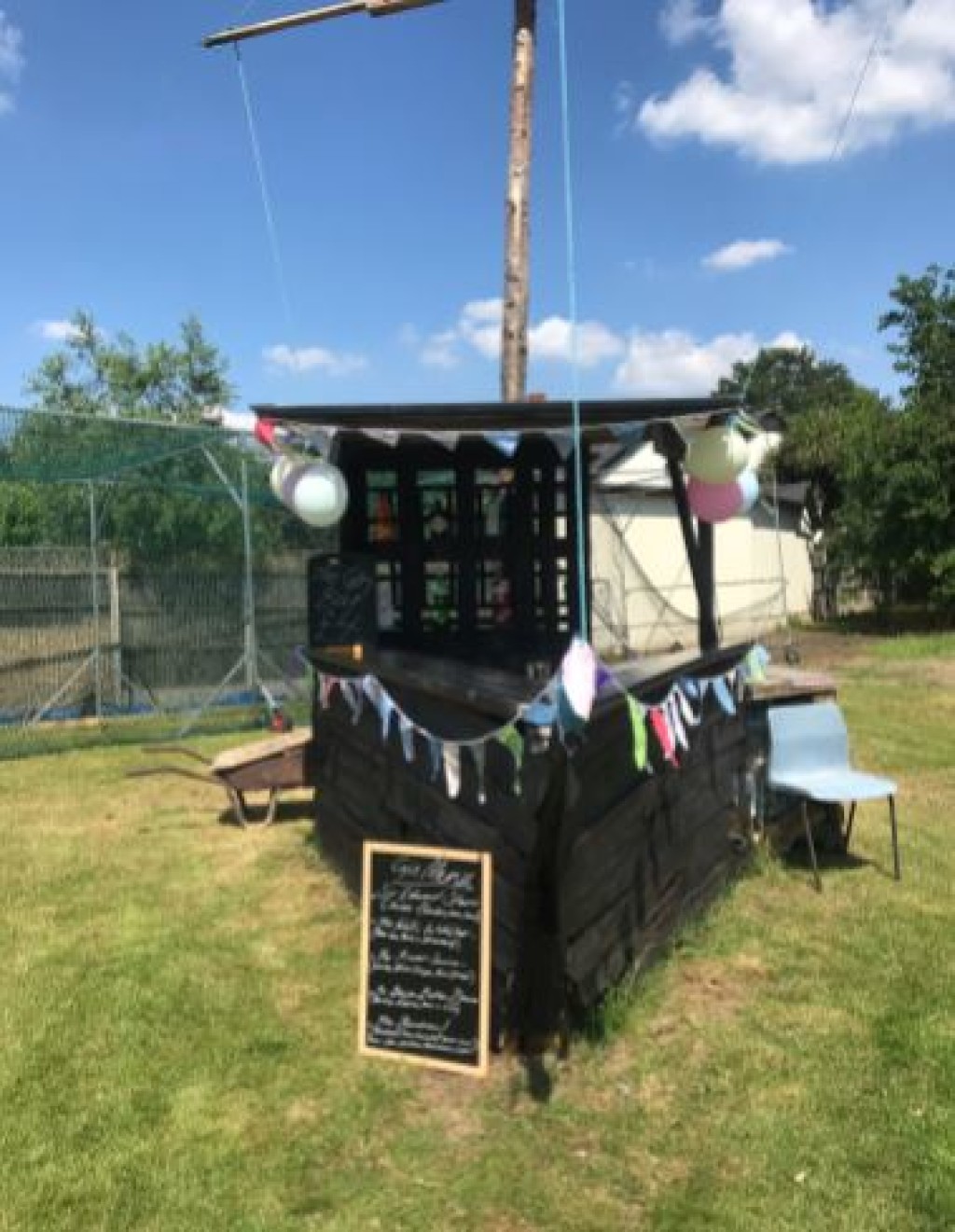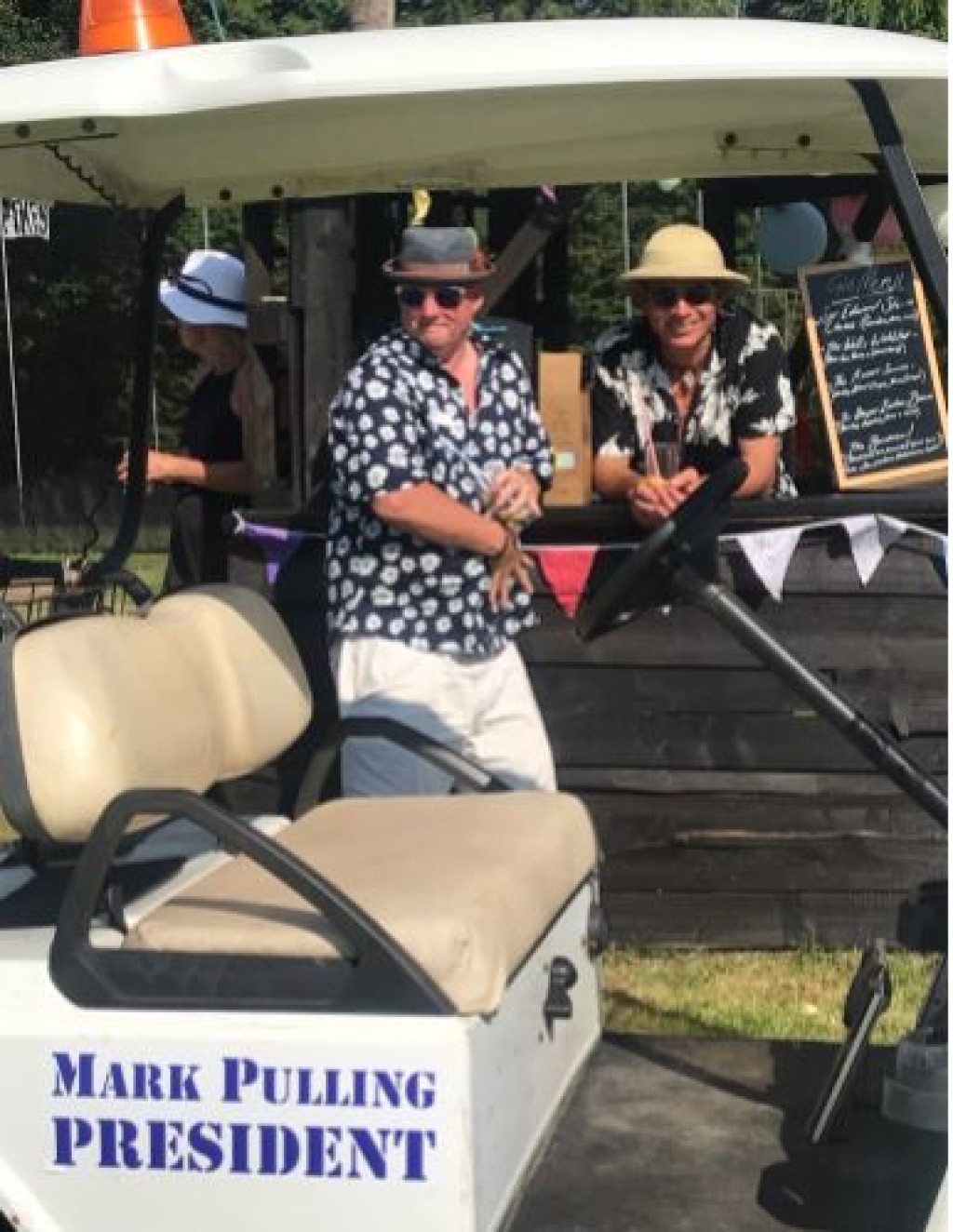 When you have a gin mix named in your honour, it would be rude not to...