The weatherman has answered our strongly-worded email and we're finally getting that heatwave we ordered weeks ago. Just in time as we told you July was a busy month... we're two events through the biggest three consecutive weekends of the CCC events calendar - the jewel in the crown is this Sunday in the form of the prestigious President's Day, hosted by your host with the most, President Mark Pulling. "Pullo" follows in a long line of Presidents dating back to Sir Edward Stern in 1898 (he pops up again later), with the highlight of their tenure President's Day, an event encouraging members to come along and celebrate the cricket and the Club. As Presidents have evolved so has the day, each of them have given it their own spin, Pullo's being this Sunday 18th from 11am.
If you aren't familiar with our Pullo, he has been with the Club for over 35 years, seeing his two sons Bill and Tommy follow his path through the Club. He has played in every senior team, and was a fearsome batsman & bowler throughout his heyday in the 80s & 90s. Nowadays you will find him soaking in the cricket on the patio or terrifying batsmen in the 4s with his bowling.
As a member of CCC you are very much invited to come and celebrate the day with us (you will have had your invite Tuesday) - the game begins at 11am, and in terms of refreshments, the bar will be open from 12pm, we will also have a gin bar on the go, Suzi Q's rocking after 3pm, and the ice cream van will be popping along for a hour or so (we recommend the "Popeye").
President Pullo and first-team Captain Jack Ogle have been busy assembling their teams and we can reveal to you now who will be playing in the Chertsey and President's XIs: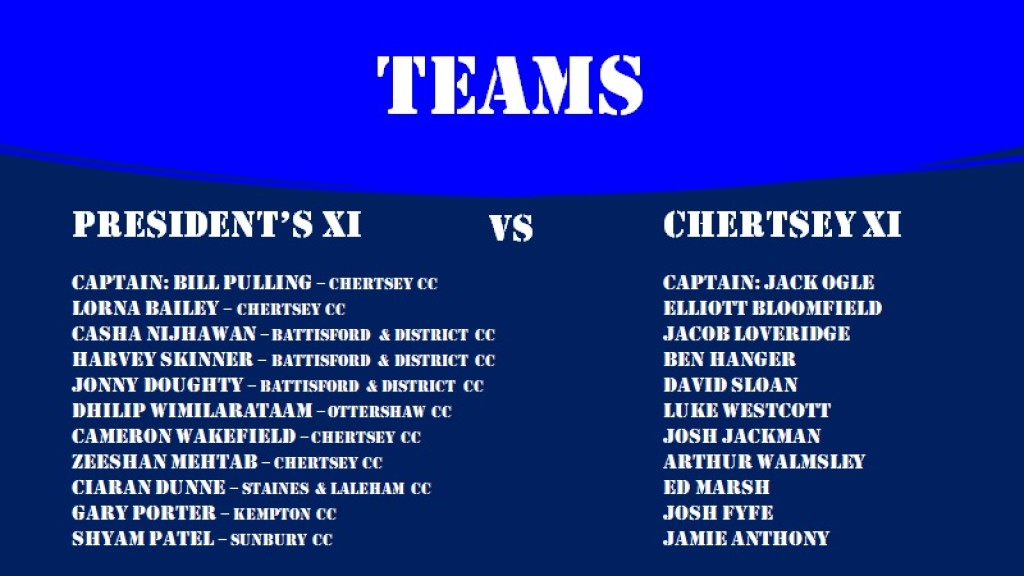 It's a debut President's Day call up for youngsters Ed Marsh, Josh Fyfe, and Arthur Walmsley after impressing in the Colts and senior sections the last couple of years - they follow in a long line of young players invited to play in the auspicious occasion, it's a moment to treasure for the youngsters. It's a first outing for Ladies Captain Lorna Bailey, David Sloan, who has impressed in the CPL this season also.
Come Sunday we'll be just one day away from the relaxation of the social distancing rules though (and where would we be without rules...) so please abide by the guidelines for this event:
- If you or anyone within your household is self-isolating please DO NOT come to the club.
- If you or anyone within your household has any symptoms of Covid please DO NOT come to the club.
- Register with QR code on arrival
- Parking is limited so please walk to the club if you can
- Pavilion will be open for use of toilets, please wear a mask when you enter.
We will also be holding the obligatory President's Day raffle after the game whereby you can win some superb prizes including a bottle of champagne, and some tickets to the hottest gig in town, the Hundred, for the Oval Invincibles ladies taking on their Manchester Originals counterparts on Wednesday 21st July, so dig deep.